Tweet
Voucher for my Japan Rail Pass
I'm a planner, much to the annoyance of some of my friends and family, the "go with the flow" mantra never sat well with me. Call it long term trauma from being the only and eldest girl, but I have always been the overly responsible one, highly skeptical, asking tons of questions until I felt satisfied. Right or wrong, I also apply this level of due diligence to travel. Before I land in a new country I need to know the national emergency number (because 911 is not universal), what the tipping policy is in that region of the world and whether or not they are "tolerant" of Black folks (yes, people still have to think about this in 2012).
A few months ago I scored an amazing deal with the Russian airline, Aeroflot. My round trip ticket cost
439 Euros from Berlin to Tokyo
with a stop over in Moscow. After receiving my email confirmation I immediately started panicking:
OMG OMG Japan what was I thinking? Do I need to bring my own slippers? No, I'm sure they communal slippers...Communal slippers, eww.What if I press the wrong button on one of those funky toilets and go flying through the ceiling? What if I get bitten by a monkey?
Does my travel insurance cover monkey-bites? What if some clown tries to slip me the kancho!!! KANCHO! ARGH!
I literally suffered from Japanese toilet operation anxiety for 3 weeks until I watched this instructional
video

Once I bested irrational fear, the logical concerns started to hit me. I would be traveling for two weeks in a country known around the world for being ridiculously expensive. Of course I got the plane ticket but what about accommodations, transport and food? YEEPERS.
The first thing I wanted to tackle was my itinerary. I had no desire to spend all two weeks in Tokyo because the
country has so much to offer
. After researching online for suggested cities, and bothering my worldly friends, I came up with a list of what I wanted to see. The winners were: Tokyo, Nikko, Osaka, Kyoto, and Kamakura.
Then I made a list of what specific things I wanted to experience while in Japan, mixing a bit of culture, Japanese hospitality and downright weird stuff ( In no particular order):
| | |
| --- | --- |
| Visit temples and World Heritage Sights | Take a Japanese cooking course |
| Witness a tea ceremony | Spend one night in a capsule hotel |
| Bathe at an onsen | Stay at a ryokan (Japanese inn) |
| Sing Karaoke | Visit a cat cafe |
| Purchase odd Kit Kat Flavors | Take pictures of huge fruit |
| Take the bullet train | Snap a picture of Mt. Fuji |
| Get silly on sake | Find the Tokyo Cupcake truck |
| Try Jamaican Food in Tokyo | Shop for cosmetics |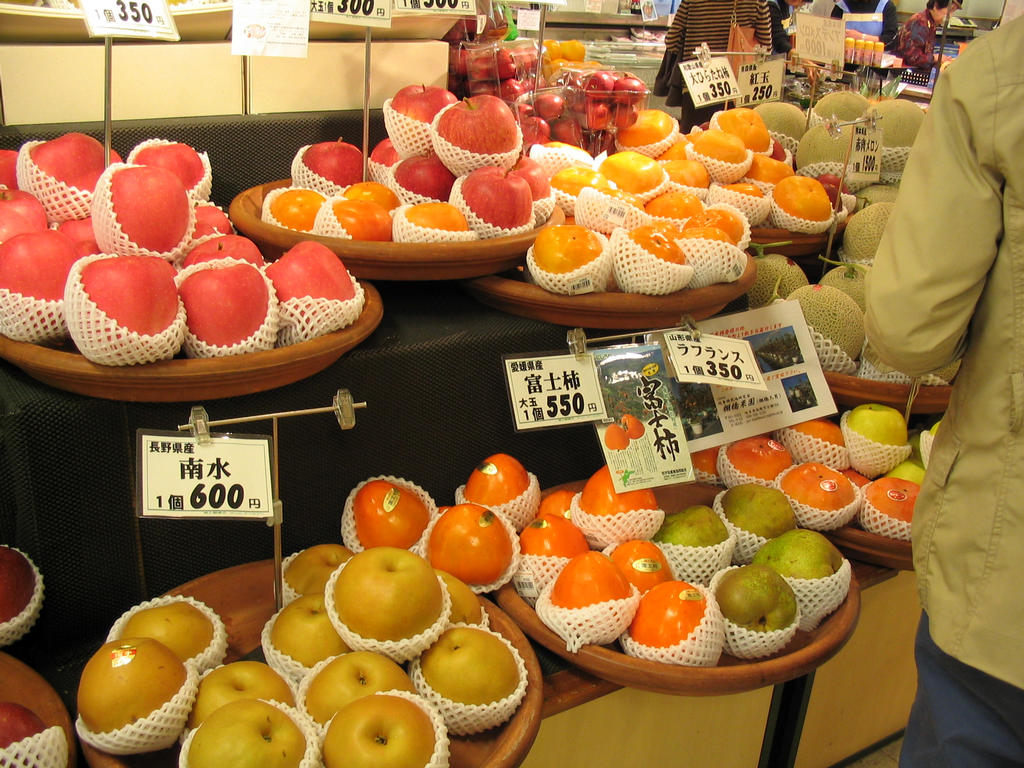 Huge perfect fruit in Japan
Now with the cities and a big list of interest, I could map out an itinerary
Feb 20 - Monday - Arrive in Tokyo
Feb 21 - Tuesday Travel Tokyo to Osaka
Feb 22 - Wednesday Osaka
Feb 23 - Thursday Travel Osaka to Kyoto
Feb 24 - Friday Kyoto Cooking Class and Market Tour
Feb 25 - Saturday Kyoto
Feb 26 - Sunday Kyoto
Feb 27 - Monday Travel Kyoto to Tokyo
Feb 28 - Tuesday Tokyo
Feb 29 - Wednesday Tokyo Day Trip to Kamakura Tour
March 1 - Thursday Tokyo Day trip to Nikko Tour
March 2 - Friday Tokyo
March 3- Saturday Tokyo
March 4 - Sunday Tokyo
March 5 - Monday Depart for Berlin
There were two major pieces outstanding, transportation all around Japan and accommodations, this is where the bulk of my budget was spent. Luckily in regards to the long distance bullet train, Japan gives tourist a break on travel, offering the
Japan Rail Pass
. The Rail Pass can
only be purchased from outside
of Japan and is sold in 7, 14, and 21 day increments. I bought the 7 day pass which I intend to use to get me from Tokyo, Osaka, Kyoto and back to Tokyo. The 7 day pass is a whopping 328,300 YEN (277 Euro) for Standard class. You receive a voucher and you pick up the actual ticket in the airport. After examining the prices of single tickets this was totally worth it.
Japanese bullet train or Shinkansen
The hardest part of this trip was arranging accommodations. I haven't actually counted but I am changing places a lot, and totally running the gamut. For starters, I will be
losing my Couch Surfing virginity
. ::pause for dramatic effect:: Considering the cost of accommodations in Japan and the fact that some of the coolest people I know swear by couch surfing, I though this would be the perfect time to give it a try. So I am staying with two hosts, one in Osaka and another in Tokyo. They seem really cool and I am anxious to meet them. Before agreeing to even put in a request for their couches, I read their profiles in detail and
scoured their referrals
. One guy is actually a friend of Adam from
Travels of Adam
, so I think I am in good hands, which reminds me I need to buy gifts!
As you might remember, I wanted to stay at a ryokan and a capsule hotel. In Kyoto I will be spending one night in a capsule hotel with a twist called
First Cabin
. The hotel has an air plane theme. I will only do that for one night and head over to
NISHIYAMA

Ryokan
to experience Japanese hospitality at it's best. (and yummy food)
I will also be sampling a few hotels. After my long flight I wanted to treat myself so I will be checking out the
Claska
in Tokyo, a really funky hotel I found in my LUXE Tokyo City Guide. I also wanted to check out this beautiful boutique hotel in Kyoto called
Hotel Mume
.
Lastly for my final weekend in Tokyo I decided to rent an apartment where all the action is in Harajuku. I found the place on
Roomorama.com
and believe me when I tell you, for the location, renting a studio apartment for a few nights was the best option.
The Wind Room in Hotel Mume, Kyoto
I still have to sort out food and local transport within the individual cities. Luckily my buddy Fidel wrote a post about
cheap eats in Tokyo
, so I will be pulling that up when I am in Japan. Local transport is a mystery to me but I have a few days to figure it out, cabs are way expensive in Tokyo and I won't be throwing any money away.
You all will be able to keep
track of my travels throughout Japan
because I will have PocketWifi, provided by a new Japanese provider called
eConnect
. As the name implies,
PocketWifi is a mini portable Wifi router
that will enable me to check in all over Japan as well as update you guys on Facebook and Twitter. I won't have to be tethered to an internet cafe or pay insane data charges if I just want to stay connected.
I am so geeked for this trip, and even more excited to be able to share it will all of you. Be prepared for some great photos, interesting observations, reviews and of course lessons what I will be learning along the way.
For the record 119 is the emergency number in Japan, tipping is seen as horribly offensive, and Japanese people have an odd fascination with Black people, so I might end up a celebrity, wish me luck!!
Have you ever been to Japan? Have you ever thought of going? What's holding you back?